Imagine a country where less than half of its citizens are given a full range of opportunities. The remaining citizens are prevented from contributing as much as they are capable of. Complicate the situation even more by adding in other factors that affect what people can accomplish, such as race and ethnicity. No matter how prosperous that country might be, there's no way it can be as prosperous as it could be as long as it neglects or ignores more than half of its citizens.
You don't have to stretch your imagination much to find a real-world example; in addition to other social-justice problems, men and women do not receive equal treatment in the U.S. even though the country has more women than men. This inequity becomes plain when you look at the federal and state government, as well as many businesses. Men generally far outnumber women in government and leadership positions within business organizations.
That shortfall represents a lost opportunity because women can make great leaders. They have different experiences, perspectives and skills than men. They are often creative, innovative problem solvers. But many times, women who start or grow a business have to face more obstacles than their male counterparts.
For nine years now, American Express has commissioned an annual report about the state of women-owned businesses. The current report is for 2019, and it is intended to motivate key players to assess whether women are receiving adequate support to become entrepreneurs. Key players who have the power and the will to change the status quo can then adjust their plans so that women receive more support in the future. The report measures sociodemographic characteristics and considers how those characteristics contribute to business success
and growth. It celebrates successes, hopes to inspire and motivate women who own businesses, and it also draws attention to areas that could be improved.
The 2019 report, for the first time, includes part-time entrepreneurs, called sidepreneurs, who are limiting the time they put into their business for several possible reasons, including the following:
Building a specific lifestyle
Creating a flexible work environment
Finding additional work challenges
Generating supplemental income
Putting their creativity to work
Seeing whether their ideas merit further exploration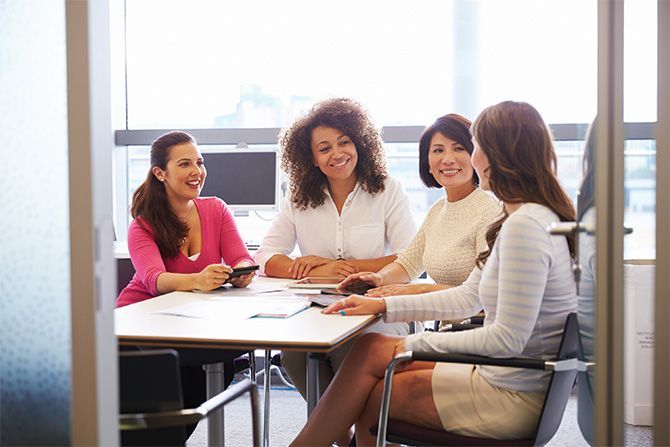 What is the report's definition for women-owned businesses? To qualify, one or more women own, control or operate at least 51% of the business.
The 2019 report used data from the 2012 Survey of Business Owners, which was conducted by the U.S. Census Bureau. The report's writers have adjusted the numbers by going to January of the current year and looking at the annual gross domestic product estimates for that year according to the industry and national, state and metropolitan levels. Writers also compared their report to the reports that were written in 2014 and 2018, so they can better understand trends in the following areas:
The number of firms
Employment
Revenue
They consider many factors, including the following:
Company size
Industry
National and state events and situations
Race and ethnicity
Sidepreneurs
The top 50 metropolitan areas
What does this year's report have to say on a national level? Considering the period between 2014 and 2019:
There are more than 12.9 million women-owned businesses. That's an increase of 21%.
They employ 9.4 million people, which is an increase of 8%.
Revenue was $1.9 trillion, which is an increase of 21%.
How do these percentages compare against businesses in general during the same period?
Where women-owned businesses increased by 21%, all businesses increased by 9%.
The number of people employed in general increased by 1.8%.
Revenues (at 20%) were close to the same.
The report notes that during the past five years, the annual growth rate for women-owned businesses, at 3.9% per year, has been more than twice the growth rate for all businesses at 1.7% per year. The one-year growth rate for 2018-2019 was 5% for women-owned businesses and 2.3% for all businesses. Taking the long view, women owned 4.6% of all U.S. businesses in 1972. They owned 42% in 2019.
Some businesses are owned equally by men and women. If you combine businesses that are owned equally by men and women with businesses owned by women, the results included almost 15.5 million businesses and account for 49% of all businesses. In 2019, these businesses employed nearly 16.5 million people and generated $3.2 trillion in income. That accounts for 14% of the workforce and 8% of all business revenue at that time.
Women generally start their businesses for one or more of the following reasons:
Necessity: Either they can't find a job, or the only jobs they can get are jobs that don't adequately meet their needs. In some cases, they have employment but still need to supplement their income.
Flexibility: They need more flexibility because of caregiving responsibilities than an employer is willing to give them, or they want more control over where and when they can work.
Opportunity: They see a business opportunity and want to explore it.
If women start businesses out of necessity or a need for flexibility, they may go back to being an employee when their situation improves or changes. They are more likely to launch a business in difficult economic times than they are in good economic times. Women who start a business because they see an opportunity are more likely to choose when they launch. They are most likely to launch when the economy is strong. As a direct result, their businesses are more likely to succeed and to grow.
Most U.S. businesses are small; in 2019, the average number of employees was 3.8 for all privately held businesses and 0.7 for women-held businesses.
In 1988, the Women's Business Ownership Act was passed. It established the Women's Business Center (WBC) program, which is run by the SBA, and it also gave women additional resources that would help them start their own businesses. The U.S. currently has more than 100 WBCs that give women access to money, mentors and networking opportunities. Research has shown that businesses owned by women are more likely to succeed when they can get the mentoring and counseling they need during the early stages of being in business.
The newsLINK Group, LLC, is proud to be a woman-owned business, with WBENC and WSBO certifications, that is currently staffed primarily by women. With headquarters in Holladay, Utah, The newsLINK Group has proven itself as a reliable marketing partner for associations that want
to reach members regularly by sending them relevant and timely information tailored to their specific needs.